About Front Burner Marketing
FOUNDER OF MARKETING TRAINING ROOM

We're Cleveland's Marketing Leaders!
Top HubSpot Solutions Partner &
Digital Agency
Our Mission
The team at Front Burner Marketing believes in sharing our expertise by making marketing resources, education, and training accessible to students and practitioners at all stages of career development and businesses at all levels of growth.
Our History
Front Burner Marketing is a leader in digital marketing and sales enablement. Since 2002, Front Burner has grown by building long-term relationships with clients, employees, and vendors—cultivating a warm and honest culture. Along the way, we've developed deep knowledge and experience in the digital marketing space. Marketing Training Room is a natural extension that allows us to share our expertise with a broader audience, reaching beyond our client base to help marketers and business owners develop their own skills. Today, we're a team of mission-driven marketing experts who work together to maximize the career and business success of our students and clients.
Our Trainings & Services
We offer digital marketing training and full agency services. We focus on Inbound methodology, including content creation for blog posts, white-papers, infographics, videos, and other assets that will attract prospects to you and the valuable information you have to offer. Marketing automation helps us get the word out with email marketing and lead nurturing, so we can turn them into customers. In particular, we are a HubSpot Certified Solutions Partner, managing the HubSpot marketing automation application for many of our clients, including strategy, persona development, blogging, email marketing, landing page creation, keyword optimization, and reporting.

We also specialize in Web Design, Website Audits, SEO (Search Engine Optimization), Hyper-Local Marketing, Social Media Marketing, Pay per Click Marketing, Online Reputation Management, Graphic Design, and Branded Promotional Items. If you need it, we have the resources to make it happen.
Our Methodology
We understand how much your business means to you, and consider ourselves to be part of your team working hard to make your business successful. Have a question? You'll hear back from us, with a thorough answer. Need something done quickly? We'll do our best to gather our resources to get it done for you as expediently as possible. On a tight budget? We treat your money as we do our own, finding resources that present the best value and meet your goals.
We function as an outsourced Marketing Department – it's like paying for a fractional share of a highly educated, experienced, and dedicated Marketing Team – paying just for what you need, with no need to hire full time personnel on staff. We work to get to know you, your organization, and your customers. We then work with you to create a marketing strategy you'll feel great about putting into action in the marketplace. Once we have a solid marketing plan in place, we handle the marketing implementation for you, just like your internal Marketing Department would do.
Here's Our Proven Approach






Whether the project is a year-long SEO effort, or a quick image banner for your website, we take into consideration the market you need to reach. We want all our efforts to benefit your brand and your business, so that's why we always start by assessing exactly what you need and what results you expect to get from it. We do this via in-depth consultation and research.
We then plan and propose the best solution to your online marketing challenges. With your approval, we launch the plan and monitor its progress. We tweak it according to the results and repeat the process.
Our Team
Every one of our experienced professionals has a degree in their field, and has actually worked in responsible marketing roles on the client side. We didn't just decide to hang up a marketing sign outside our door one day. We know what it's like to have responsibility for revenue growth, deadlines to meet, personnel and agencies to manage, and more work to do than humanly possible between meetings. Our marketing company is founded on being an invaluable assistance to you in terms of getting things done. Here are a few of our key players:
Janalee Silvey, Managing Director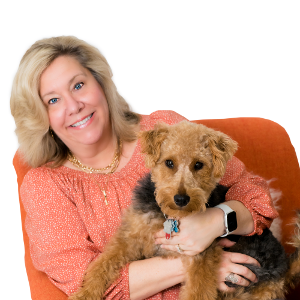 Armed with a BS degree from Miami University with majors in Finance and Business Economics and years of experience in corporate America, Jan completed her MBA with a Marketing Concentration from Case Western Reserve's Weatherhead School of Management as first in her class, winning the Dean's Award for Academic Achievement.
She quickly obtained respect as a top-notch professional marketer with companies including Rubbermaid, Bath and Body Works, and Nestle, applying her skills in Management level roles responsible for guiding research, product development, product launch, sales support, and marketing communication strategy for some of the most recognizable brands in America and abroad.
Always wanting to build a business of her own, Jan started Front Burner Marketing, LLC as a means to use her skill set to help businesses of all sizes generate leads and increase their revenue by taking advantage of an appropriate blend of traditional marketing strategies and proven cutting edge trends.
She is selective about the organization's client base, ensuring that an atmosphere of mutual respect, commitment, hard work, frequent and pleasant communication, and – importantly – humor, remains the reason we all love to go to work in the morning!
Kendra Morvillo, Director of Operations & Senior Account Manager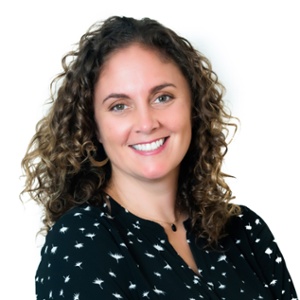 Kendra Morvillo joined the team as an Account Manager in 2015. Raised by four parent entrepreneurs, she has a lifetime of exposure to what it takes to run an SMB on all fronts. She graduated from Miami University in 2003 with a Bachelor's Degree in General Business and a specialization in Entrepreneurship.
Out of college, she landed a job as an Assistant Merchandiser in a small, NYC-based startup online and catalog retailer. Over the course of her years there, she quickly climbed to the rank of Senior Merchandiser. The business boomed and she was able to have active involvement in all aspects of its growth, from merchandising to marketing to creative direction and customer service.
She has applied this wholistic view of business to her clients as a dedicated Senior Account Manager. She works diligently to meet and exceed her clients' expectations, and brings a can-do, problem solving attitude to every new challenge. An excellent marketing strategist, she keeps her ears and mind open to stay up on the latest emerging marketing tools, ready to suggest what she believes could benefit her clients.
Kendra lives in Hudson with her husband, two sons, and two Golden Retrievers, Scarlet and Violet. She brings a great balance of hard work and good humor to the Front Burner team.
Lindsay Sirak, Account Manager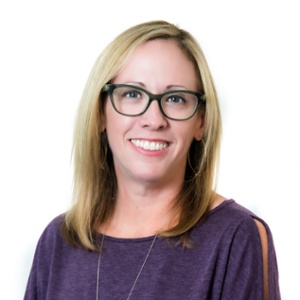 After graduating from the University of Delaware with a Bachelor's Degree in English and a Business & Technical Writing concentration, Lindsay spent eight years as a children's book editor at Scholastic, Inc. in New York City. Thanks to her highly organized personality, hard-driving mentality, and formidable multi-tasking skills, she quickly moved up Scholastic's ranks to become Product Development Manager. After moving to Hudson, she served briefly as the editor of Hudson Life magazine before leaving to start her family.
Lindsay is a dynamic and versatile professional, with writing and editing experience in business, technical, marketing, promotional, and educational topics. She is detail-oriented, committed to delivering accurate, thorough, creative results, and thrives in a fast-paced, deadline-driven work environment. With a highly-innovative mindset and ten years of experience under her belt, Lindsay joined the Front Burner Marketing team in January 2019.
Lindsay lives with her husband, 2 children and a cavapoo in Hudson, where she serves on multiple Hudson City school boards and non-profit organizations and plays tennis whenever she can find time!
Tiffany Lardomita, Senior Account Manager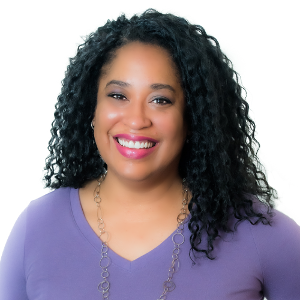 Tiffany Lardomita is an avid reader, marketer, and educator with nearly 15 years of experience in online content development.
In 2007, while teaching personal marketing at a career college, Tiffany "cracked the code" of lifelong learning and taught herself web design. She worked full-time during the day helping over 400 students get jobs, and spent nights as a student herself, learning everything possible about online marketing for businesses.
After building two successful websites, and excited about her newly-developed skill, she began facilitating workshops in Northeast Ohio to share her online marketing knowledge. During that time, she spoke at conferences all around the city and built several beautiful websites for business owners that expanded their reach and generated revenue.
Never truly leaving her higher ed roots, Tiffany went on to work in two education startups doing business development and marketing. A series of coincidences helped her find her way to Front Burner Marketing to manage client accounts and lead the launch of our training division.
Tiffany is highly creative and always wears a smile on her face, bringing positive energy to everything she does. Outside of work, you'll find her cooking restaurant-quality meals, making elaborate pieces of jewelry, or daydreaming on her deck. She lives with her teenage son in Macedonia, and is engaged to marry a smart salesman who smiles as much as she does.
Rachel Juszczyk, Account Manager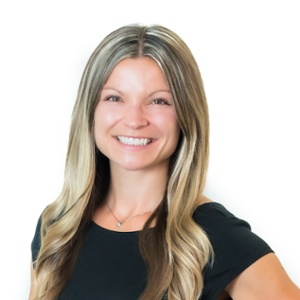 Rachel graduated from Kent State University in 2011 with a Bachelor of Science in Public Relations. While at Kent, she worked as a media sales manager and interned in the PR department at Diebold Nixdorf Inc. in Canton. Upon graduation, she landed her first corporate job with Signet Jewelers. There, she promoted luxury brands including Neil Lane, Russel Simmons, and Jane Seymour's Open Heart Collection. This included placing product on celebs, pitching the media, planning and implementing events as well as generating content for social media (Jane Seymour's Facebook page specifically).
After an engagement to her now-husband and a move to the east side, Rachel accepted a role in the marketing department at a hospital association in downtown Cleveland. There she had the opportunity to learn the nonprofit world and further her expertise in event planning and project management while gaining skills in email marketing, website design, advertising, content writing, SEO, social media, as well as re-branding strategy and execution.
In 2018, she and her husband started their family and longed to be a bit closer to home. So, they made the move and Rachel embarked on learning another industry—education. She worked in marketing, promotions, recruitment, and career development at a career-tech high school in Medina county.
Rachel enjoys working on and learning new things. Seeking a way to combine her skill set and all her industry experience, Rachel broke out on her own as a marketing consultant. The contractor life didn't last long. She was hired shortly after completing a few projects and is now an account manager working mostly on launching FBM's training division, Marketing Training Room.
When Rachel isn't working you can find her increasing her endorphins through exercise, playing superheroes with her young boys, assisting her husband with home improvement projects, watching football, or spending time on the water with her family.
Mike Yaeger, Senior Account Manager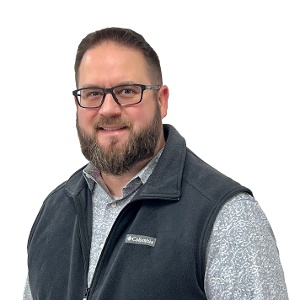 Mike Yaeger joined the Front Burner Marketing team in 2023 as a Senior Account Manager and brings with him over 15 years' experience in the marketing and advertising industry. Throughout his career, Mike has had the privilege to work with some terrific clients and prides himself on developing relationships with colleagues and business contacts.
Mike's career has awarded him with a wide digital and traditional marketing skill set focused on client growth and lead generation. He has certifications in HubSpot Inbound Marketing and has become fluent in the use of HubSpot's CRM, Email, Blogs, and Landing pages. Along with HubSpot as Mike was building his chops, he was heavily engaged with SEO, Social Media Advertising, PPC, and Campaign Development.
Client strategy is a passion of Mike's as he strives to reach client goals by creating roadmaps to their success.
Mike lives with his wife, three children and two boxers in Tallmadge, Ohio. He enjoys camping on weekends during spring and summer months, and spending time with friends.
Brinkley Silvey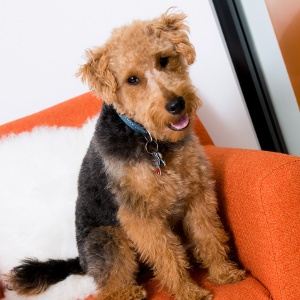 Since joining the team in 2020, Brinkley Silvey has become a valuable contributor at our agency. With a knack for making everyone smile, Brinkley's bubbly personality provides happiness to all who enter the building, especially the mailmen. Known for his Epicurean nature, Brinkley can be found chomping on Front Burner-orange carrots or lounging in one of his plush beds in the middle of the floor. But Brinkley is not all loafing and cuteness. His presence encourages collaboration as well as the spontaneous eruption of business-related ideas. After taking him outside for one of his walks, several coworkers have reported an "aha" moment leading to solving a pressing client issue. Brinkley is more than a mascot and more than the "office dog". He's a calming colleague, a bright light, and a sparkling reminder that pure goodness exists in the world.
Join the Team!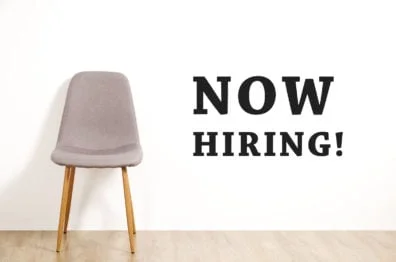 Here's your chance to explore joining our team here at Front Burner Marketing! We're expanding our team by adding an additional Account Manager, which is a super important position with the company. Our Account Managers are the front line for the team managing all the details for their assigned clients, which makes this a position where you can really dig in and make a difference. If you love marketing and continual learning, if you're a problem solver who shows initiative to delight clients with really great work, then we'd like to talk.