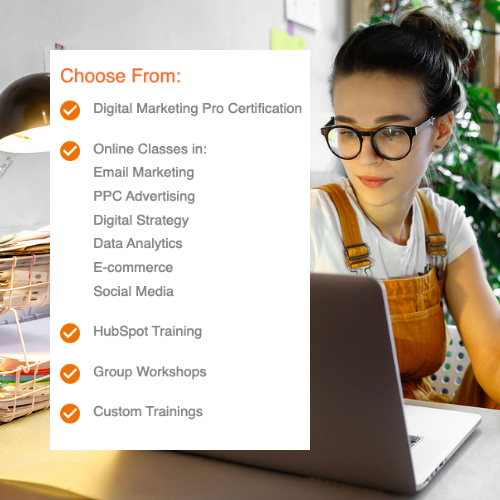 Are You Confident In Your Digital Marketing Know-how?
Build your business or your career by cultivating a better understanding of digital marketing platforms!

The marketing landscape is ever-changing and the future of sales is digital. Connecting with customers online is what separates the good brands from the great. Do you have the information and skills you need to navigate in this arena?

Master the latest digital marketing strategies, tools, and tactics to empower yourself to take control of your career or your business. Whether you're holding the virtual reins yourself, directing an internal marketing team, or partnering with an external agency—you need the latest knowledge to effectively drive your digital strategy and grow your business. Get in the game and become a digital marketing pro today!

Want to Increase Online Visibility, Traffic, Engagement, Leads, Customers, Revenue, Profits, and ROI?
We Understand Your Challenges
You want to get into online marketing, but you don't know where to start.

Your traditional advertising methods aren't working anymore, but you don't know how to update them.

You are running an online marketing campaign, but you aren't seeing results.

You need to upskill yourself or your team.
Get More Out of HubSpot CRM
Maximize Your Customer Relationship Management System!
From set-up and training to marketing and sales strategy—our HubSpot Certified agency will meet you and your team where you are and help lay out a plan to address your priorities. We can also work with you to develop workflows, communication automations, campaigns, and custom functions that are focused on driving your bottom line!
New to HubSpot?
CRMs can be challenging to set-up and difficult for teams to learn and adopt. That's why over 40% of HubSpot users rely on Partners, like Front Burner, to get the most out of their investment! We make the onboarding process simple and quick, so you can experience the value of HubSpot faster! Let us assist with your set up, onboarding, and training.
HubSpot User?
Supercharge your customer acquisition, sales development, and company growth with HubSpot Marketing, Sales, CRM, and CMS. Tap Front Burner for deep knowledge, proven experience, and demonstrated results. Our expert team can help you make the most of HubSpot's tools and apply winning strategies.
Considering HubSpot?
We can be your guide all the way through purchase and set-up to strategy and ongoing support.
Contact us to help you negotiate the process and determine the appropriate the best deal!
HubSpot Services to Support Your Business Growth!
Onboarding, Set-up & Training

Marketing Hub Tech & Strategy

Sales Hub Tech & Enablement

CMS Website Hub Development & Migration